Main information:
The Margravial Opera House in Bayreuth –
outstanding Monument of Baroque Theatre Culture
The Margravial Opera House added to UNESCO's World Heritage list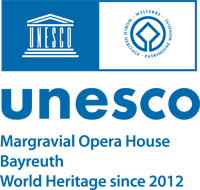 On 6 July 2012 the UNESCO Commission decided on the basis of the ICOMOS recommendation to include the Margravial Opera House on the list.
A masterpiece of Baroque theatre architecture, built between 1746 and 1750, the Opera House is the only entirely preserved example of its type where an audience of 500 can experience Baroque court opera culture and acoustics authentically, as its auditorium retains its original materials, i.e. wood and canvas.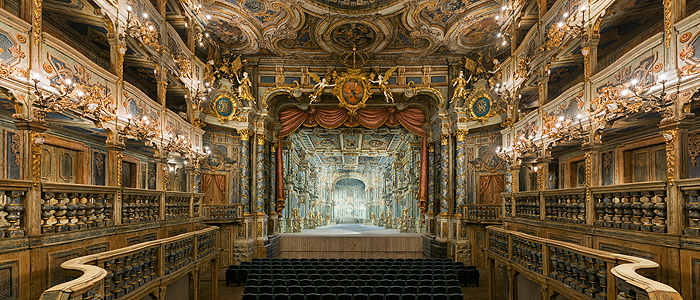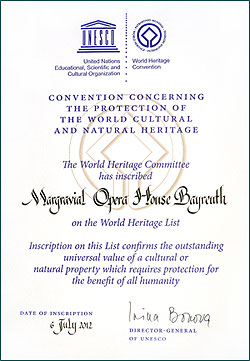 Commissioned by Margravine Wilhelmine, wife of Frederick, Margrave of Brandenburg-Beyreuth, it was designed by the renowned theatre architect Giuseppe Galli Bibiena. As a court opera house in a public space, it foreshadowed the large public theatres of the 19th century.
The highly decorated theatre's tiered loge structure of wood with illusionistic painted canvas represents the ephemeral ceremonial architectural tradition that was employed in pageants and celebrations for princely self-representation.
The Margravial Opera House is a cultural monument of world standing. Unparalleled circumstances have enabled us to inherit it in unique condition from our forefathers. The inclusion in the UNESCO world heritage list is impressive confirmation of this. It is thus our obligation to preserve this remarkable monument of Baroque theatre culture in the best possible way for future generations.
---
Preface for UNESCO application
The Margravial Opera House Bayreuth – UNESCO World Heritage Site since 2012
ICOMOS report for UNESCO application
Contact