Main information:
Bayreuth Court Garden
History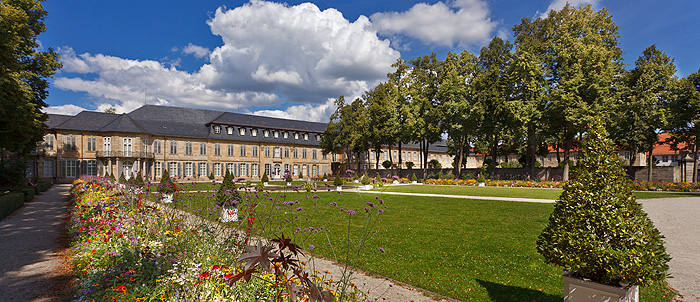 After completion of the New Palace, which was begun in 1753, the garden that had been margravial property since the end of the 16th century was redesigned and extended. An original plan of the Bayreuth Hofgarten can be seen in the Fantaisie Palace Garden Museum.
The pall mall alley planted in 1679 (pall mall was a popular game comparable with croquet), was incorporated in the new garden. Originally planted with lime trees, later with willows and alders, in 1793 with poplars and in 1844 with ash-trees, the alley was finally planted with oak trees in 1943. South of this avenues, hedge gardens, pergolas and parterres were laid out for the margravial couple.

The central axis of the garden was a canal with four islands. This axis is not aligned with dominant architectural features of the palace, as would normally be expected. Before it reaches the end of the garden the canal makes a sharp turn to the right. A large Neptune group, created in 1763 by the Räntz brothers and set up on an island in the canal, was never fully completed, and sections of it were eventually transferred to Fantaisie Park. In 1889, figures discovered in the maintenance yard were erected in various parts of the Court Garden.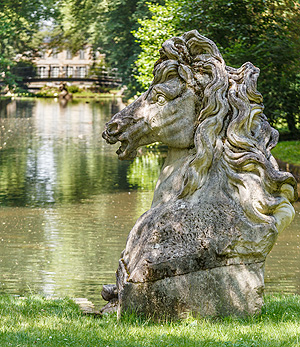 At the end of the 18th century, the garden was transformed into an English style park, with winding paths and natural stands of trees. However the basic features of the geometric garden can still be seen. The park is still dominated by the canal with the large island, the three main avenues and a few huge trees dating from the 19th century.
The section on the town side of the New Palace with paths between clipped trees and ornamental flowerbeds on either side of the central Margrave Fountain by Elias Räntz was restored a few years ago in its original form on the basis of plans by Carl Effner dating from 1864.
"The Court Garden is also very varied and beautiful. It too has shady avenues, sparkling water, isolated shrubs and soft expanses of green. The scent of roses wafts about all its straight and winding paths; it is a place where nature is displayed in all its glory and art in all its majesty."
(From a description of the town of Bayreuth dating from 1795)