Main information:
Sanspareil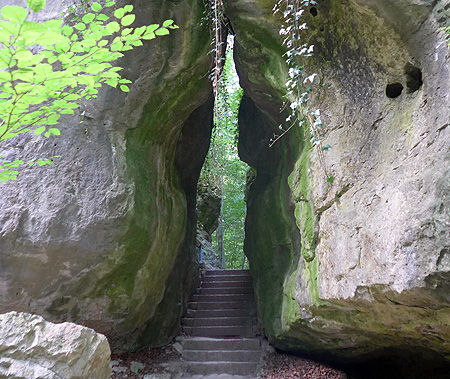 Rock Garden
The area around the medieval Zwernitz Castle between Bayreuth and Bamberg had always been used by the margraves for hunting. It was not until 1744, however, that it was decided to turn this isolated area into a "garden of wonders".
From 1744 to 1748 there was continuous building activity in order to complete a small palace, a belvedere, a theatre in the form of a ruin and other buildings within the natural grove of rocks in time for daughter Friederike's wedding.
In 1746, at the sight of the rock garden, a lady at the court is said to have exclaimed, "Ah, c'est sans pareil!" – "It has no equal!" – and in the same year Margrave Friedrich had Zwernitz renamed Sanspareil.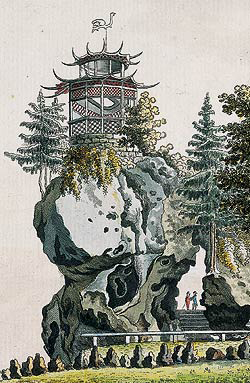 The Belvedere on the Äolus Rock
coloured copper engraving, 1793
© Staatsbibliothek Bamberg, photo: G. Raab
The name is certainly very apt for this Rock Garden consisting of individual formal gardens inserted with very little alteration to the natural surroundings into a woodland setting dominated by bizarre rock formations. Small buildings with an exotic flavour such as the Belvedere and rural huts were constructed on top of rocks to serve as retreats in the "Sanspareil Hermitage". Many of these buildings fell into ruin in the course of time or were sold in the 19th century for demolition.
One building that did survive is the open-air theatre, a mixture of grotto and ruin. The auditorium is located behind a massive, natural rock arch; the orchestra pit, the arches that provide the stage setting and the back wall are made of roughly hewn stones.
"Behind this miraculous arch however one sees the theatre, growing as it were out of the rock and beautified and aligned by art … The position, form and arrangement of the whole construction makes a powerful, indescribable impression on the observer …" (From a travel description dating from 1812 )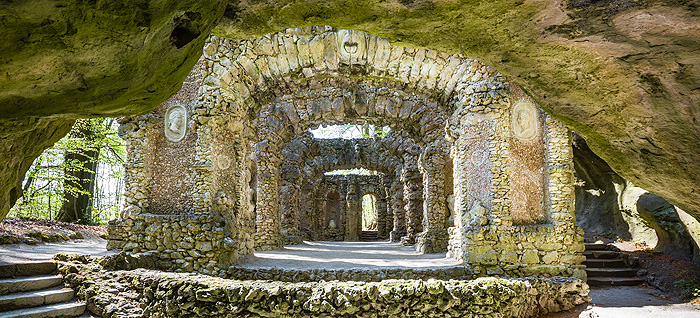 In around 1748 the caves and rocks were interpreted by Margravine Wilhelmine after a French novel of education as Telemach places – locations of events in the life of Telemach, the son of Odysseus, who achieved enlightenment after a series of trials and adventures. The literary programme of Sanspareil has remained in the names of individual rock features such as the Calypso Grotto and the Mentor's Grotto.
Oriental Building
The Oriental Building, which served as a rural hermitage, is also particularly attractive with its fairy-tale, oriental-looking exterior decorated with paste and tuff. The interior is by contrast rather severe, with only sparingly applied stucco-work in the Bayreuth rococo style. What is unusual here is that the rooms are grouped round a small open courtyard; in the middle of this is an old beech tree, the natural heart, as it were, of this man-made building.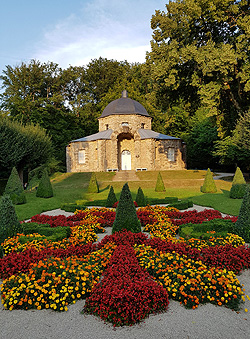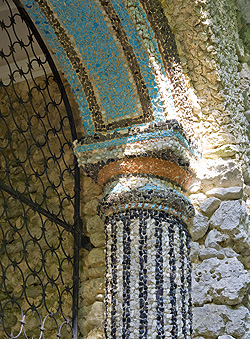 "A small detour to Sanspareil prevented me from writing. The location of the place where we were is unique. Nature herself was the architect. The buildings that have been erected there are most unusual. Everything is rural and rustic. We were in very good company and felt free of all constraint."
(From a letter of Margravine Wilhelmine, 1749)