Main information:
The Margravial Opera House in Bayreuth –
outstanding Monument of Baroque Theatre Culture
Margravial Opera House – World-Class Cultural Heritage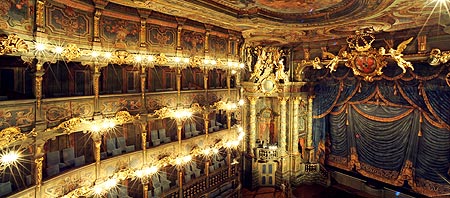 Margravial Opera House, circles and stage
The Baroque period is often characterised as a theatrical epoch, and the Baroque world as the "Theatrum Mundi". Architecture, painting and sculpture found expression in lavish and profuse settings of enormous dimensions.
The culmination of Baroque self-representation – that is, the outward display of social position – took the form of Baroque ceremony. All official events at this time were accompanied by ostentatious ceremonies. To achieve this, ephemeral architecture was used as the basis for extraordinary and unprecedented productions, on which the most renowned artists of the age collaborated.
The Margravial Opera House in Bayreuth is in an excellent state of preservation, embodying in a consummate and exceptional way the form of the courtly opera house and ceremonial space of the 18th century, which, alongside palace and church architecture, was the most important arena for the self-representation of absolutist society. As the creation of a music-loving princess, herself a composer and director, it is also an important testimony to the musical culture of the German courts of the time. It is an unrivalled example of ephemeral or transient architecture, which was the impetus for the visual arts of this period, and which, up until now, has not been included on UNESCO's World Heritage list.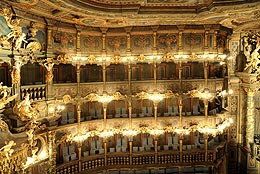 Circles in the Margravial Opera House
With its almost completely intact auditorium, built by the most renowned theatre architects of the time, the Margravial Opera House stands as an exemplar of the ceremonial and operatic art of the Baroque. It also points to the culmination of Baroque performance, which was characteristic throughout Europe, yet has vanished over time.
Up until now, Renaissance and Baroque theatres have generally only been added to UNESCO's World Heritage list as components of larger monument ensembles. Moreover, these are, for the most part, small theatres, which were intended for theatrical productions rather than for large-scale musical theatre, opera or ceremonial events.
As a monument to the European ceremonial and music culture of the Baroque, the Margravial Opera House completes the World Heritage list in an incomparable manner.
---
The Margravial Opera House Bayreuth – UNESCO World Heritage Site since 2012
ICOMOS report for UNESCO application
Contact