Main information:
Information for people with a handicap about the Hermitage

Information for people with mobility impairment
Hermitage Old Palace
Entrance
Wheelchair entrance at the side of the Old Palace via several ramps; this will be opened by staff on request.

Small turning circle before the ramps (100 x 80 cm)

Please use the intercom at the entrance to contact the staff at the cash desk.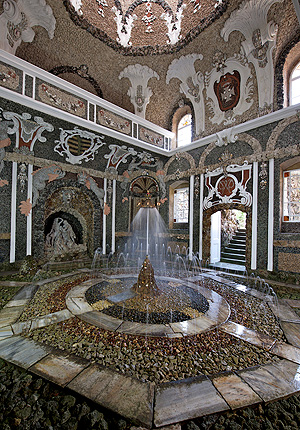 Interior
Door sills inside the palace 3-5 cm high

Doorways at least 80 cm wide

Level flooring

Waterworks in the grotto only accessible via steps, but can be seen through windows in the palace courtyard.
Café in the New Palace
Entrance step-free via ramps at the rear of the New Palace
Hermitage Court Garden (paths)
Mostly gravel

Paths around the palaces and to the car parks quite level, with hardly any slopes

Further away from the buildings there are more slopes and uneven paths (here an accompanying person would be helpful).

Seats available
Disabled parking
Three disabled parking spaces in the visitors' car park on the south-west side of the gardens
Disabled toilets
Near the disabled car parks and at the rear of the New Palace
---
Information for the visually impaired
No guidance system for the visually impaired available

No audio guide available

Regular guided tours in the Old Palace from the beginning of April to mid-October
---
Information for the hearing impaired
No induction loop for hearing aids available

Written information is available at the location.
---
Information: Anna Radtke und Thomas Tigges GbR (as of October 2015)