Main information:
Information for people with a handicap about Bayreuth New Palace and Court Garden

Information for people with mobility impairment
Bayreuth New Palace
Entrance
Separate step-free entrance to the right of the main entrance; opened by staff on request
Interior
Step-free access to all main areas via a lift (length: 140 cm, width: 100 cm)

Doorways at least 80 cm wide

Level, non-slip flooring

Seats available

Separate step-free access to the museum 'Markgravine Wilhelmine's Bayreuth'. Please ask at the cash desk.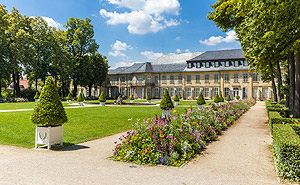 Bayreuth Court Garden (paths)
Paths wheel friendly and without slopes

Most paths with tarred or gravel surfaces

Seats available

Bridge to 'Große Insel' (Large Island) has steps.
Disabled parking
Two disabled parking spaces: one in Ludwigstraße / Residenzplatz (opposite the main entrance) and one in Glasenappweg (small alley to the left of the palace)
Disabled toilets
On the upper floor of the New Palace and in the Court Garden near the orangery
---
Information for the visually impaired
No guidance system for the visually impaired available

No audio guide available

Regular guided tours in the 'Italian Palace'
---
Information for the hearing impaired
No induction loop for hearing aids available

Written information available
---
Information: Anna Radtke und Thomas Tigges GbR (as of October 2018)